The GYMBOX - A Motor Activity Center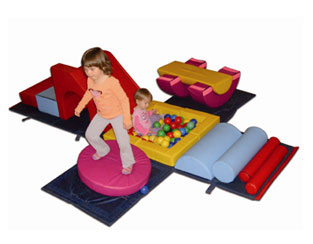 The GYMBOX (Patent No 8296881) is an innovative modular cube unfolds
its 6 faces and transforms to a sport mattress that combines various elements,
such as balls pool,cylinders of different sizes, swings, stairs, slope, crawling tunnel and balance surface.
The GYMBOX is available in two size:
GYMBOX 80cm cube (age group 3m-3y) 17 parts –
spreads into 2.4*3.2m, Guarantees fun for children up to the age of 5
…to photo gallery
GYMBOX 100cm cube (age group 3y-7y) 16 parts –
spreads into 3*4m, Guarantees fun for children up to the age of 7y
…to photo gallery
Enables years of enjoyment – taking the  child through different developmental stages
The GYMBOX allows for parent and child quality time, enhancing many important developmental aspects such as fine & gross motor skills, balance & coordination, visual and spatial perception – all through fun play
For the first time you can create a whole "playground" in your own home
monitoring your child's safety
Multi – function,  Multi- user
The GYMBOX was developed for the fast pace of life which allows for less and less time being spent on physical activities. The GYMBOX was designed to assist kindergartens, daycares, varied therapists and leisure centers as presenting a complete array of different activities.
Dana Alperon, Psychologist, Developmental and Educational Consultant to the GYMBOX: "Experimentation through physical activity in early childhood contributes to the cognitive development
and reinforces the confidence and emotional skills that affects later learning abilities".
"The GYMBOX is a great multisensory environment for that".


For more information and detail…
View and print: